September 2, 2021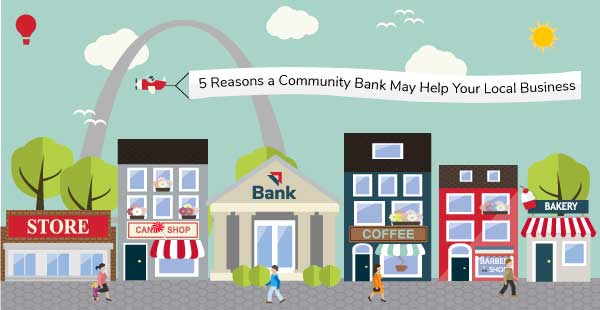 Does the choice between a large, national institution and a small, community bank really make a difference in the success of your business? Consider these factors:
Product Offerings
With technology advances as of late, community banks are able to provide the same types of deposit products and cash management services that larger banks can. Usually, rates and fees are competitive, if not better. Many small banks tend to focus on core banking products and leverage partners outside their organization for more specialized needs such as credit cards and merchant services, while others offer everything in-house. At the end of the day, banks of all sizes are able to deliver high tech solutions to make banking convenient.
Mergers and Buy Outs
We see this happen all the time – banks are bought by other banks or merge with other financial institutions in the name of serving their customers. Many nationwide banks deploy a growth strategy that includes entering local markets through buyouts of smaller financial institutions. Recently, we saw a large bank enter the St. Louis market through an acquisition only to turn around a few years later and sell a group of accounts to another institution. There seems to always be this kind of shake up in the banking industry, but there is one constant – community banks. Community banks are interested in growing with their customers, not outgrowing their customers. Because community banks are devoted to their customers and their communities, they tend to be more stable when it comes to the name on the door and strength they offer to their borrowers through long-lasting lending relationships.
Agility and Speed
Smaller banks tend to offer more flexibility when it comes to deal structures. Larger banks tend to have rigid underwriting criteria and transaction procedures, whereas smaller banks can adjust and be creative. Decisions can often be made quickly because lenders are given more authority and are typically the ones that have authority to approve the loans.  Because they operate locally, they have deep knowledge of the market in which your business operates.
Accessibility
Who do you call? Your account got hacked, maybe you have an opportunity to buy out a competitor or found a great deal on a new building. Do you have a banker that knows your business and financials? Can you call them after hours? Can you call or text them and get a timely response? Small banks are known for their personalized service and relationship building. By focusing less on the transactional nature of banking and more on developing relationships with their clients, community bankers are better positioned to anticipate needs, provide conveniences, and consider the local landscape as they advise business owners.
Local Knowledge and Community
What difference does it make whether your banker is sitting in your town or in another state altogether? When your banker lives, works, and shops in the same community as you, there is a reciprocity to the relationship – they patronize local businesses and make referrals within their networks. Community banks are part of their local economies and are personally invested in seeing their communities succeed. For businesses with current or future financing needs, a community banker comes with a unique advantage. When you consider regional differences, it can be advantageous to have a banker that understands the unique challenges and opportunities of your market on an intimate level. Most business lending involves a knowledge of the local market conditions, especially if you are buying commercial real estate. Having a local banker who is accustomed to evaluating both owner-occupied and investment real estate is a must when you are making a real estate investment. It is this same local banker that will be approving your loan and making a commitment to you to be there, with your loan proceeds, on your day of closing.

Learn More
As you consider your banking relationship, we invite you to contact one of our commercial bankers to learn more about community banking and if CNB St. Louis Bank is a good fit for your business banking needs.