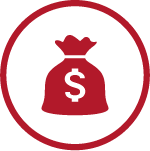 Tap Into Your Home's Equity
Home Equity Lines of Credit
Take advantage of the equity you've built in your home to finance projects, unexpected expenses, weddings, college, pay down high interest debt, and more!

There are many ways in which a homeowner can save money with by refinancing.  CNB will walk you through things you can consider to determine if now is your time to refinance.
Use Home Equity to Pay Down Debt
Should you use your home's equity to consolidate other debt? This calculator is designed to help determine whether debt consolidation is right for you.