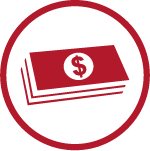 Our commercial banking team is ready to help you through all aspects of your business banking needs.  From financing options to fraud prevention tools, we have the expertise to help your business thrive. 
Recent Commercial Loan Closings
We offer custom financing solutions for business owners and real estate investors. Here we highlight some of the recent commercial loan closings we've had including the unique goals of the borrower, the challenges of the transaction, and the final financing solution we provided.
Whether you are a business owner looking at the benefits of owning your building, or a real estate investor looking to expand your portfolio, CNB provides the support you need to make commercial property ownership a reality.
A line of credit provides flexible, short-term financing for the expected and the unexpected.  Having one in place before your business needs it is key.  Talk to one of our lenders today to learn more.
Construction & Development
CNB St. Louis Bank offers a wide array of products and services to assist developers, investors and owners in acquiring, developing, building, managing, and permanently financing most commercial property types.
Our commercial banking professionals in government guaranteed lending can help you select from a variety of attractive financing solutions on loan programs from $50,000 and up.
Commercial Equipment & Vehicles
Your company is growing and you need to expand your capacity, your equipment is at end of life, or perhaps you need an upgrade.  Whatever the reason, CNB St. Louis Bank can help you finance the equipment you need to sustain your company's growth.
Specialized Business Loans
Does your business have unique needs?  Our experienced commercial banking professionals can customize winning business solutions for your lending needs.