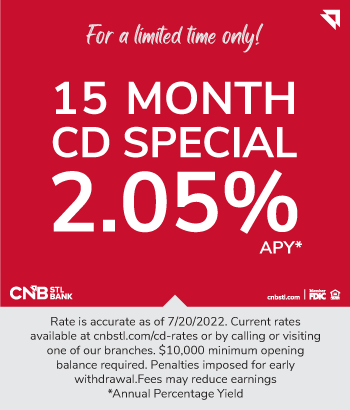 Earn a higher rate than a savings account on funds you can set aside for a fixed period of time.
Certificates of Deposit (CDs) are a convenient savings option. Choose from a variety of terms and options with features that include:
Low minimum deposit to open the account
Competitive interest rates
Quarterly compounding interest
May be eligible for a monthly or quarterly interest check
Contact us
today for our most recent rates or to open an account.  Our bankers are ready to assist you.
Account Type
Minimum Deposit to Open Account
Interest Rate
Annual Percentage Yield
3 Months
$1,000
0.15%
0.15%

6 Months
$1,000
0.20%
0.20%

1 Year
$1,000
0.35%
0.35%

Special:
15 Months
$10,000
2.03%
2.05%
2 Years
$500
0.50%
0.50%

3 Years
$500
1.05%
1.05%

4 Years
$500
1.10%
1.10%

5 Years
$500
1.25%
1.26%

Rates effective as of  August 2, 2022.  Early withdrawal penalties may apply.  Fees may reduce earnings.
Concerned about liquidity?  You can use a strategy called CD Laddering to benefit from higher interest rates offered by longer maturities, while achieving greater liquidity by placing smaller balances in CDs with shorter, staggered maturity dates. 
Check out our CD ladder calculator here
.