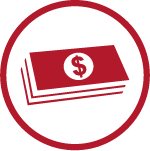 Borrow
Meet our Consumer Loan Team
Our experienced bankers are here to help you meet you find the proper financing option for your unique situation.  
Get moving with a car, truck, or motorcycle loan from CNB.  Whether you're hitting the road in your new car or in the mountains in your SUV, our vehicle loans offer you rates and terms designed to help save you time and money.
Are you ready to captain your own watercraft?  How about that travel trailer you want to take on vacation next summer?  We can help finance your recreational purchases.
Get the credit card with access you expect and convenience you deserve.
Home Equity Lines of Credit
Take advantage of the equity you've built in your home to finance projects, unexpected expenses, weddings, college, pay down high interest debt, and more!

Find the financing you need for home projects, even with little or no equity, with a home improvement loan from CNB St. Louis Bank.
Whether you are buying your first home, are an experienced homeowner, or are looking to make use of your equity, we want you to count on us to assist you along the way. It's our job to match your financial situation to the best product available to meet your goals. 
Conforming Payment Notice
All loan payments must be accompanied by the account number or payment notice provided.  Loan payments must be received by the close of business, Monday through Friday by 5:00 p.m. (Central Time).  Payments received after 5:00 p.m. (Central Time) Monday through Friday will be credited as of the next business day.  Payments received on Saturday, Sunday, or Bank Holiday will be credited the next business day or as otherwise permitted by law.  Loan payments submitted through CNB St. Louis Bank's Digital Banking platform will be credited to the loan at the time the payment was submitted.
Loan payments may be sent to: CNB St. Louis Bank, 7305 Manchester Road, St. Louis MO 63143.  Payments may also be made in person at any of our Banking Center locations.