Our Founding in 1915
We are an independently owned community bank and have been since our founding in 1915, making us one of the oldest banks in the state of Missouri. Since then CNB St. Louis Bank has continued to serve our community and customers with a focus on personal service, positive experience, and accessibility.
TIMELINE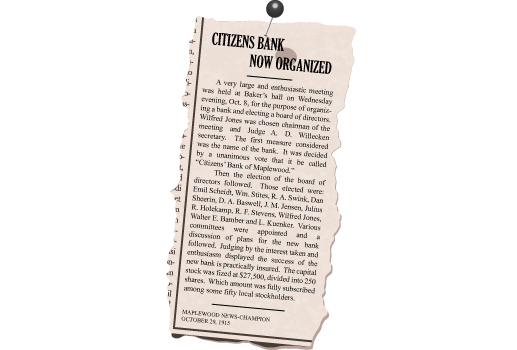 October 1915
Area Flooding Prompts New Bank Formation
In August of 1915, 6 inches of rain were dropped on the Maplewood area in just a few short hours.  Water rose quickly, roads were closed, train and street cars were stranded, and houses were swept off their foundations.  Twelve (12) citizens lost their lives.  In October, after months of cleanup, a meeting was held to discuss plans for a new bank to help rebuild the community.
The unanimous choice for the name of the bank "Citizens Bank of Maplewood"  According to an October 29th article in the Maplewood News-Champion, "Judging by the interest taken and enthusiasm displayed, the success of the new bank is practically insured."
November 1915
First President, William Stites - Architect and Builder
In November, the bank's original officers were elected. The first president, William Stites, was a pioneer Maplewood resident and well-known architect and builder. 
The founders saw the need and opportunity from the path of devastation left by the flood.  They came from many diverse fields in the community - a contractor, a hardware store owner, a lumber yard owner, a real estate broker, a painting contractor, a lawyer, and a sheet metal tinnier were among the founders of the bank.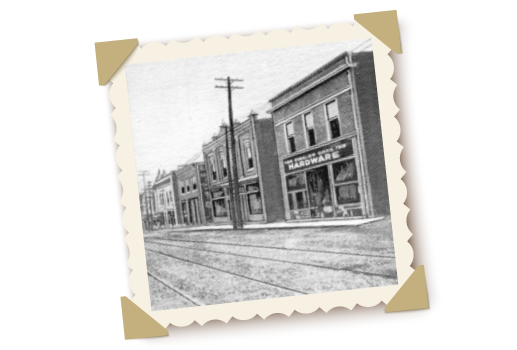 December 1915
"The Bank Ideal for Your Savings"
With a startup from the sale of 50 shares of stock, Citizens National Bank of Maplewood opened on December 20, 1915 with a tagline of "The Bank Ideal for Your Savings."  The bank started their first day with working capital of $27,500 and assets totaling $37,075.84. The bank operated from a modest brick structure at 7318 Manchester, pictured here with streetcar tracks running in front of the building.
Coming Soon!
We are actively working on this page.  Come back and visit us often as we add more information about our rich history in the community.