PIONEERS IN AIRPLANE LOANS
By: Mary Piles, CNB St. Louis Bank Historian
Posted: December 6, 2022
Since 1915, CNB St. Louis Bank has exhibited a fierce entrepreneurial spirit, recognizing opportunities to fulfill the ever-changing
needs of our customers and shareholders. In the 1950s, CNB, then called Citizens National Bank, became a pioneer in airplane financing.
Pioneers in Airplane Loans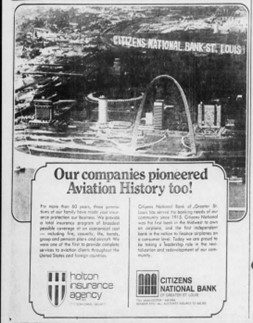 CNB was the first independent bank in the nation to finance airplanes on a consumer level. From 1952 through the 1970s, airplane loans brought remarkable growth to Citizens National Bank. By 1955, the bank had financed over half a million dollars in airplane loans.
CNB was also the first bank in the Midwest to own an airplane. The Bank used its airplanes to encourage interest in small personal plane investments. Through the years, the Bank has owned a few planes, including:
1954 Cessna Model #180
1955 Cessna
1965 Final Beech Super H18
J O Holton Jr. piloted the bank-owned planes, flying bank directors, employees, and customers to out-of-town meetings and seminars. The Bank also hosted many local flyovers to treat folks to stunning views of the St. Louis area. Many of the aerial photos of Maplewood and St. Louis were taken on these flyover trips, including the one shown to the right. 
The History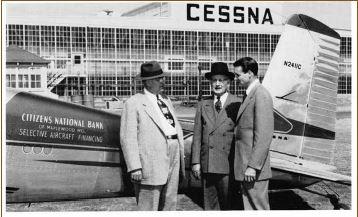 The bank's connection to aerospace can be traced back to 1941 when the United States Naval Base at Pearl 
Harbor was bombed. The attack on Pearl Harbor was one of the most pivotal moments in US history, bringing the United States 
 into World War II. United States citizens got involved by investing in war bonds and sending their sons and daughters off to fight the war.
J. O. Holton, Jr. served in the second World War as a fighter pilot. His father, J O Holton Sr., Citizens National Bank's fourth president, continued to move the focus of the banks investments into war bonds to further the country's efforts. After the war, J O Holton Jr. returned home and worked at the bank until they called for his service again. He then served in the Korean War, where he taught and trained future pilots how to fly. Upon his return from active service, Holton, Jr. began working full-time at the Bank, becoming a Vice President and member of the Board of Directors. During this time, Holton Jr. stayed in touch with many of his fellow pilots he served with and taught during his service, connecting over their shared experiences and desire to continue piloting planes.
Inspired by his love of flying, J. O. Holton Jr. applied the principles of automobile lending to the financing of aircraft and, in 1952, began offering airplane loans at Citizens National Bank. Airplane loans made personal planes more accessible, creating an opportunity for pilots to purchase personal aircraft and continue their passion for flight. The increased accessibility, combined with swift progress in aviation technology, became the beginning of an era.
Aircraft Loans Today
Although CNB St. Louis Bank no longer specializes in airplane financing, the Bank continues to provide customized business lending solutions, including the occasional airplane loan for an established business client. To learn more about our lending solutions, reach out to one of our commercial lenders!