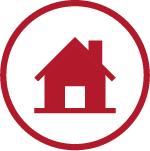 Purchase or Refinance a Home
Start the home buying or refinance process now with our easy-to-use, secure online application portal.
We offer several different loan programs including Conventional, FHA, VA, and HOPE loans. 
Our experienced mortgage bankers are here to help match you with the best product available for your circumstances and goals.
Want to figure out what your mortgage payment will be?  Use this calculator to quickly see your monthly principal and interest payments based on loan amount, term, and interest rate variables.
Construction / Bridge Loans
Unlock your home-buying power with a home construction loan from CNB St. Louis Bank.  Our competitively priced loans and financing options can put you in your dream home sooner than you think.
First Time Homebuyer Loans
The home buying process can be a stressful time, especially for first time buyers.  Our experienced bankers are here to guide you through your journey.
Use this mortgage calculator to determine your monthly payment and generate an estimated amortization schedule. Quickly see how much interest you could pay and your estimated principal balances. Enter prepayment amounts to calculate their impact on your mortgage.
Which Term is Right? 15 Year vs. 30 Year
The most common mortgage loan term is 30 years, but do you ever wonder how much you could save with a 15 year mortgage loan?  Use this calculator to compare monthly payments and discover how much interest savings you could save with a shorter mortgage term.