Manage Your Budgets Better with Commercial Subaccounting
Multiple departments, multiple budgets, multiple headaches: There's a better way for organizations like yours to manage your money. Separate your master account into several "subaccounts," one for each department. You'll have greater visibility, control and peace of mind. Best of all, you can do it quickly, easily and automatically—anytime you want—with our online subaccounting platform.
How does commercial subaccounting work?
Commercial subaccounting separates a general ledger or master account into several smaller, more manageable components. These subaccounts give you clear visibility into the financial activity of each—such as deposits, interest earned and withdrawals.
Municipality Example:
For example, a municipality may create a subaccount for each department—such as police, fire, education, roads, parks and recreation and so on. By separating funds, the municipality is better able to manage the individual budget of each department.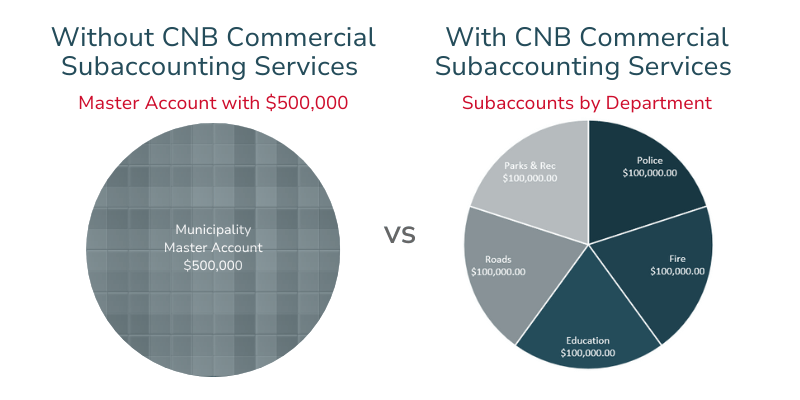 What are the advantages?
Our online subaccounting services make it simple to achieve:
Greater visibility: By separating funds into subaccounts, you'll gain deeper insights into the financial activity and performance of each. So you can make more informed decisions not only for each subaccount, but also for your total budget overall.


More control: Greater visibility leads to better management, as you fine tune the individual performance of each subaccount.


Accurate financial reporting: Create detailed reports by subaccount, to more easily identify opportunities to improve performance.


Better budgeting: With a detailed view of each subaccount's performance, you'll be empowered to allocate resources more efficiently and support the financial goals of your organization.
Three ways to use commercial subaccounting
| | |
| --- | --- |
| | Departmental Budgets: Easily monitor the cash inflows and outflows of individual departments of your organization by creating a subaccount for each. Quickly identify if you're overspending and spot opportunities to improve your budgeting best practices. Plus, see how much interest is earned on deposits by department. |
| | Customer Accounts: An individual subaccount for each customer will help you easily track customer activity—such as transactions, payment history and outstanding balances. |
| | Project Accounting: If you manage one or more large projects with complex deposits and expenses, subaccounting can help you track the financial activity of each project component. |
Commercial Subaccounting. For You.
We make subaccount management simple: at CNB St. Louis Bank, take advantage of our online subaccounting platform 24/7 to create, close and monitor subaccounts easily. Plus, the dollars you deposit help your community grow—as we lend them to your neighbors to build businesses and own homes. It's just one more way we're Banking. For You.