June 28, 2021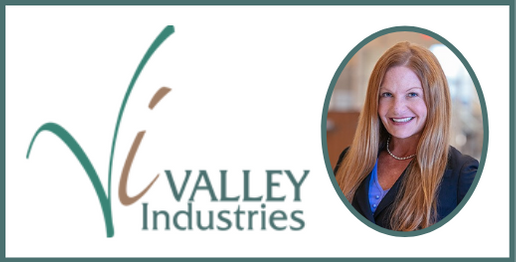 Annie Eck, Vice President of Commercial Banking at the North Banking Center, has recently been appointed as a Board Member for Valley Industries. Valley industries is a nationwide distribution plant that provides dignified and meaningful employment for adults with developmental disabilities, while also delivering outstanding quality and services for their customers.
Eck was born and raised in the Florissant area, where Valley Industries was first headquartered in 1967. "I am proud to have been elected to the board of Valley Industries.  When they first approached me to be on their board, I agreed without hesitation," commented Annie, "Having been around people with special needs my whole life, I have a special affinity for the people Valley Industries serves.  I understand how important job success can be for a person's identity and self-esteem, and there aren't a lot of opportunities out there for individuals with developmental disabilities."   Valley Industries provides individuals who may not be able to succeed in a traditional workforce the ability to be productive, have gainful employment, improve their social skills, and so much more.
Annie's specialized knowledge of small business lending, commercial real estate, restaurant lending, retail operations, family business, construction financing and relationship banking, allows her to help business owners achieve their goals. Most recently, Annie played an instrumental role in helping employers like Valley Industries obtain the Paycheck Protection Program (PPP) loan dollars they needed to maintain through the recent pandemic.  She greatly enjoys building personal relationships with each of her clients. Her experience and devotion make her a strong banking resource for business owners.
About Valley Industries: Since 1967, Valley Industries has been a constant source of a competent and skilled labor force for companies in St. Louis and throughout Missouri and other states. A not-for-profit organization, the workshop is geared to meet the subcontract and the special project needs of business and industry. Valley Industries strives to be the employer of choice for people with developmental disabilities. They employ over 200 workers in their 63,000 square foot facility and are committed to customer satisfaction through audited quality processes.