August 20, 2021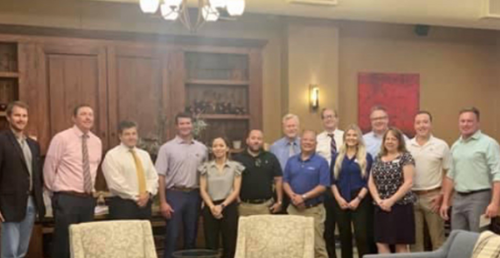 CNB St. Louis bank is proud to announce the latest addition to their network of boards - the Professional Board.  This group is comprised of young business leaders in the St. Louis area.  The mission of this new advisory board is to promote the development of new relationships that bring value to their members as well as to the community.  The group will meet on a regular basis to create opportunities to widen business and social circles, forums for encouraging personal and business growth, and knowledge that expands perspective and awareness of current issues impacting the members' businesses and communities.
The board was organized by and will be led by Colby Schmid, Regional President at CNB.  "Community advisory boards are a great compliment to what we do here at CNB, helping us reach members of the business community on a personal level - as individuals.  I am excited to lead this new professional board and to help foster lasting relationships between its members."  The board is comprised of seven members and growing.  
The inaugural members of the new CNB Professional Board include:
The board members are asked to attend meetings and special events hosted by the bank as well as serve as ambassadors for the bank, promoting the bank's people, products, and services.  Members are all active in the St. Louis business community and are focused on growing their businesses, creating valuable and lasting business relationships, seeking and promoting diversity, and fostering a healthy local economy. 
In addition to the Professional Board, CNB St. Louis Bank has a legal board plus three community advisory boards including one for each of our three regions - North/West, South/Central, and St. Charles. 
Learn more about our boards.