May 10,  2023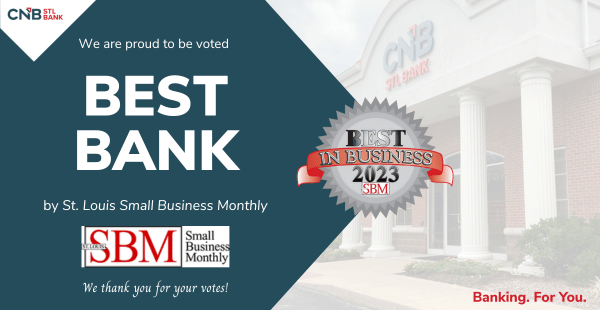 We are pleased to announce CNB St. Louis Bank has received the title of 2023 Best Bank in St. Louis from St. Louis Small Business Monthly.
"In these moments, it's important to acknowledge our team's dedication to delivering exceptional service to our clients," stated
Timothy A. Rodden
,  President and CEO.  "I am particularly proud of them for their engagement in our communities. Being a community bank means we help our neighbors build their businesses, raise their families, and achieve their goals, which is something we don't take lightly. To us, community is more than a location, it's people. It's you."
Mr. Rodden also expressed his gratitude for our loyal customers who nominated us for the third year in a row.  The award is given based on nominations from local business decision-makers who recognize the best businesses and individuals in the area. 
We want to express our sincerest appreciation to our loyal customers and the readers of
St. Louis Small Business Monthly
  who nominated us. We are grateful for their continued support and for sharing their positive experiences with our personalized service and convenient accessibility. The
complete list
of the
2023 Best Banks in St. Louis
can be found on
Page 16 of the May issue
.
St. Louis Small Business Monthly is a locally owned publication established in 1988 that helps its readers stay informed with the latest business advice and trends. The publication serves established companies of all sizes primarily in the manufacturing, construction, real estate, wholesale, healthcare, banking, and business services industries in the St. Louis Metropolitan area.
CNB St. Louis Bank is an independently owned community bank that has been serving the Greater St. Louis area since 1915. We offer a comprehensive suite of banking and financing products, emphasizing personal service, positive customer experience, and convenient accessibility. We are committed to serving our clients the way they like, when and where they like, and we call this commitment
Banking. For You.