May 12, 2020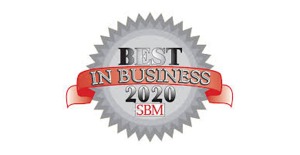 CNB St. Louis Bank is honored to be featured in the May issue of Small Business Monthly as one of St. Louis's Best Banks.  We want to thank all of our loyal customers for placing your trust in us and voting us Best in Business 2020.
We believe being the best means taking time to get to know you and your business and provide customized business loans, deposit products, and cash management tools to help you succeed. Being a community bank means our bankers and decision makers are accessible. We work, live, and shop in the communities we serve and have a vested interest in helping local businesses thrive. Customers benefit from our accessibility and personalized service while also taking advantage of our up-to-date technology offerings such as 24/7 access to online and mobile banking, convenient remote deposit capture, fraud prevention tools such as positive pay, and other cash management solutions.
Established in 1915, we are proud to be one of the oldest banks in the Midwest and are focused on building collaborative relationships with our clients to provide winning banking solutions. We serve the St. Louis and St. Charles areas from our six branch locations. If you are interested in learning more about how a community bank can help you or your business, please contact us today!