January 20,  2022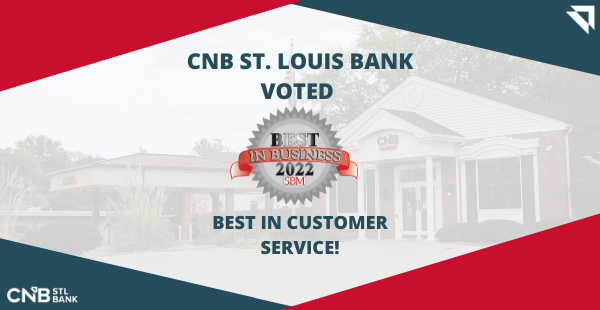 We are proud to announce that CNB St. Louis Bank has been named "Best in Customer Service" by St. Louis Small Business Monthly. The January 2022 issue of the publication features this year's list of businesses voted Best Customer Service in the St. Louis Metro area. 
St. Louis Small Business Monthly compiles the annual list of Best in Customer Service by collecting nominations from their readers, comprised of presidents, owners, CEOs, CFOs, and many privately and/or multi-generational family-owned companies in the St. Louis region with an average of 25+ years in business.   
Being Best in Customer Service means going beyond meeting the customer's basic needs and is something the Bank recognizes as one of the key reasons individuals and business owners choose a local, community-focused bank.
"We value this nomination because it means we not only meet the needs of our customers, but we exceed their expectations, which is what we set out to do," noted Tim Rodden, President and CEO of CNB St. Louis Bank. "Bringing value to the table is so much more than delivering products and competitive pricing, it's about being accessible and attentive to your customers and their needs." 
Since its inception in 1915, CNB St. Louis Bank has had the same mission for its customers - to deliver personal service, positive experience, and accessibility.  We call this commitment: Banking. For You. Our employees and customers are paramount to our success, and we are proud of the personal relationships we've built both inside our company and within our communities. 
With pride and sincere gratitude, we want to thank all our loyal customers, readers, and supporters for nominating and voting CNB St. Louis Bank as Best in Customer Service!  We encourage you to visit the St. Louis Small Business Monthly website to view the full list of 2022 Best in Customer Service and join us in congratulating all the wonderful local businesses who have been honored alongside us. 
If you are interested in learning more about how a community bank can assist you and your needs, contact us today!