January 13, 2023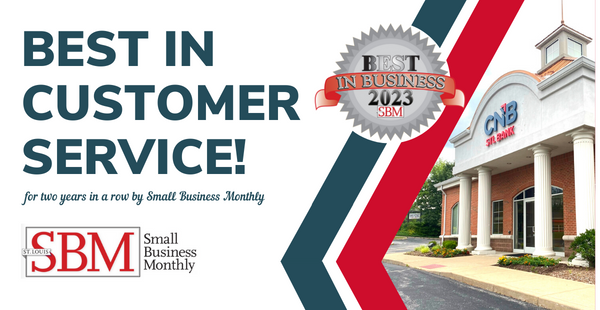 St. Louis Small Business Monthly recently released its January 2023 Best in Customer Service List, and CNB St. Louis Bank is proud to be at the top of that list for the second year in a row! At CNB St. Louis Bank, customer service is more than just an expectation; it's a core value that drives our mission to provide superior service to every customer.

As a community bank, our team understands that customer service is key to keeping customers happy, loyal, and wanting to come back. We look for opportunities to exceed expectations by providing fast responses, helpful solutions, and personalized experiences tailored to each customer's individual needs. Whether customers are looking for banking advice or assistance with a transaction, our team is standing by to provide friendly and knowledgeable support through walking in, driving through, or assisting at our walk-up window.

"I am very proud of our team's commitment to their customers and their proactive approach to service. They deliver our brand promise every day," stated Tim Rodden, President, and CEO of CNB St. Louis Bank.

CNB St. Louis Bank is an independently owned community bank that has been serving the people of the St. Louis region since 1915. We are focused on providing our customers with personal service, convenient accessibility, and positive customer service. Regardless if you're looking to open a checking account, get a mortgage loan, commercial financing, or simply want to start a conversation, CNB St. Louis Bank is here to help you reach your goals.
Customer service is the heart of what makes a successful business, and we are proud to have maintained this commitment to quality customer service and experience, even with all the challenges over the last few years. With our sincerest gratitude, we want to thank all our devoted customers, supporters, and SBM readers for voting CNB St. Louis Bank Best in Customer Service! For a list of all other local businesses that have also been honored with this award, check out
St. Louis Small Business Monthly 2023 Best in Customer Service
awards page.

Need a banker you can rely on? Contact us today to learn more about how we can assist you and your needs!