April 5, 2023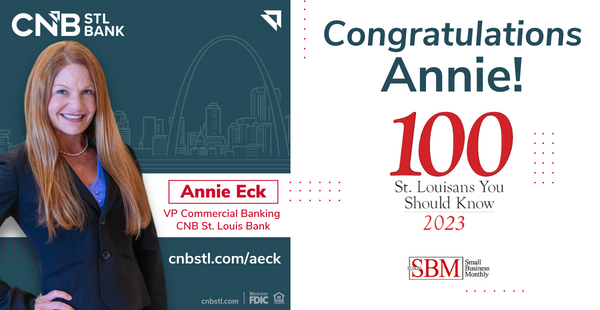 Congratulations are in order for Annie Eck, Vice President of Commercial Banking, who has recently been nominated as one of the 2023 "100 St. Louisans You Should Know To Succeed In Business" by St. Louis Small Business Monthly! See the full online addition here.
Annie, who was both born and raised in the Florissant region, highly values her strong connections with the North County business community. With over two decades of impressive banking knowledge and expertise, she fosters personal relationships with every client, meticulously tailoring her approach to meet each individual's banking and financial goals.
Since 2015, Annie has been a part of the commercial banking department at CNB, operating from the North Banking Center situated at the intersection of Washington and St. Ferdinand in Old Town Florissant. Annie is deeply invested in the community and actively serves on Valley Industries' board.