February 11,  2022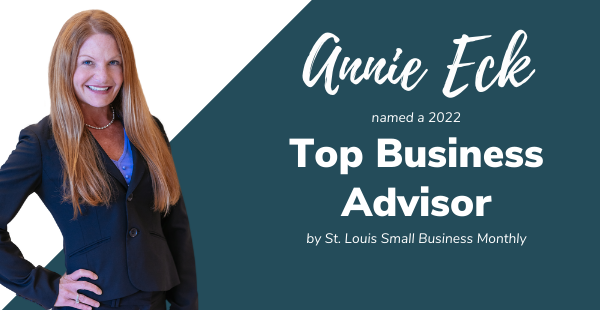 We are pleased to announce that Annie Eck, Vice President of Commercial Banking, has recently been nominated as a "Top Business Advisor" by St. Louis Small Business Monthly! This year's February 2022 issue includes a small feature about each Top Advisor and how their proven guidance, ideas, and support inspire others.
Annie, born and raised in the Florissant area, values her strong ties to the North County area business community. She leverages her remarkable 20+ years of banking knowledge and experience by building personal relationships with each of her clients, helping them achieve their banking and financial goals, and working meticulously to fit each individual client's needs.
In the feature, St. Louis Small Business Monthly asked Annie to answer a few questions:
What are the biggest challenges for business owners (from your experiences):
"The past few years have certainly tested us all. My clients span a variety of industries, but face similar challenges. Every business has faced difficulties with staffing and added material costs. Many struggled with supply chain delays. There were also cash flow issues related to the shut-down. It felt great to directly aid clients by facilitating PPP loans."   
What's the best advice you can give for business owners?
"Make it a priority to have an advisory team in place who is both accessible and trustworthy.  These relationships are key to facing challenges. There will always be decisions, no matter the hot-button issues of the day.  In my 20-year banking career there is one challenge that remains unchanged – finding a network of advisors that are available and reliable.  Business advisors can provide specialized knowledge to help you weigh risks and rewards as you make business decisions.  Find a banker who not only answers your calls, but reaches out. Someone you can trust to not only give you fair terms, but one who has the expertise to structure your deal to match your business goals. For me, it is not just about getting a deal approved, it is about being accessible and offering solutions that make sense for both the bank and the business owner. My focus is to be a resource to my clients and to support their business and personal goals." 
Most Admired Business Advisor holds a strong meaning of having intuition, demonstrating high problem-solving skills, and understanding each clientele's financial and personal needs. "I am proud to  have Annie on our team and am not surprised she was nominated for this distinction.  She consistently demonstrates the client-first strategy CNB is known for and her devotion to her clients is sincere, " commented Jeff Camilleri, President of Commercial and Mortgage Banking.
Annie joined the commercial banking department at CNB in 2015 and currently works out of the North Banking Center in Old Town Florissant, at the corner of Washington and St. Ferdinand. Annie is also greatly vested in the community and serves on the board for Valley Industries.