July 15, 2022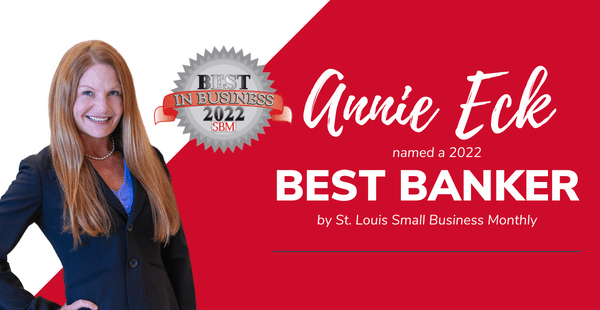 CNB St. Louis Bank is delighted to announce that Annie Eck, Vice President, Commercial Banking, has been voted as one of the Best Bankers in St. Louis and is featured in the
July Issue
of
St. Louis Small Business Monthly
. We are so grateful to our customers and readers of
Small Business Monthly
who nominated Annie with this honorable mention! 

"I am pleased that Annie has been honored as one of the Best Bankers in the St. Louis area," mentioned Tim Rodden, President, and CEO at CNB St. Louis Bank. "Annie makes her clients her top priority. She works diligently to meet each client's needs by being accessible, focused, and personable, while finding the right solutions that make the most sense for both the Bank and business owner. I am proud to see the success from all her hard work".

Having over 20 years of banking experience, Annie values helping business owners achieve their financial goals and the relationships she builds from them. She strives to be the Best Banker for her clients by understanding their personal and financial needs, while also being the best resource that she can be, any time or any day. "It is a priority for me to make sure my clients feel comfortable and understood, and that they can rely on me. I will always work assiduously to be that person—it is my passion, and I am proud to stand by that," commented Annie.