December 20, 2021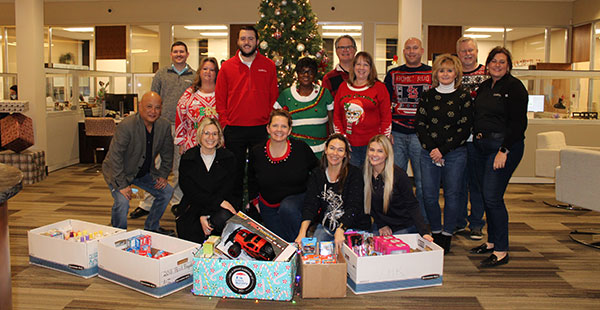 Each year during the holiday season, CNB St. Louis Bank employees proudly work together to support an area charity.  This year, we hosted a Holiday Giving Tree to benefit Saint Louis Crisis Nursery .  St. Louis Crisis Nursery is committed to the prevention of child abuse and neglect. They provide interventions, short term care, support, and safe havens to families and children who face emergencies caused by illness, homelessness, domestic violence, and/or overwhelming prenatal stress.
Starting the Tuesday after Thanksgiving, known as Giving Tuesday, employees got together to collect the most needed items from the nursery's wish list.  Every employee who participated received a keepsake ornament commemorating their support of the nursery.  We invited our customers to help by making each of our six branch locations collection points for anyone who wanted to donate for the drive. 
The drive culminated on Friday, December 17th, National Ugly Sweater Day, with a friendly ugly sweater contest between participants with prizes for the winners.  It was a special day filled with  generosity, kindness, and comradery.  
Together, our community and employees were so grateful and proud to collect over 250+ donation items for Crisis Nursery, which include but are not limited to:
$200 Cash and Gift Cards (Target, Walmart, Schnucks, Dollar Tree)
53 Baby Lotions/Baby Wash
51 Tubes of Toothpaste
49 Toothbrushes
32 Hot Wheels/Toy Cars
31 Bars of Soap
10 Baby Dolls
6 Barbie Dolls
6 Gloves/Mittens
4 Body Spray/Deodorant
3 Aldi Gift Cards (Surprise Amounts)
3 Baby Formula
2 Hand Sanitizer
2 Shampoo
1 Pack Baby Wipes
1 RC Truck
If you are looking for a charity to support this year, we invite you to consider choosing Saint Louis Crisis Nursey, for a great cause and organization! They also have 5 local donation locations in the St. Louis area. We are so thankful for our donations that make it possible for Saint Louis Crisis Nursery to better deliver their services, joy, and happiness to families and children in need this holiday season!
Congratulations to the winners of our 2021 Ugly Sweater Contest!
First Place

Kyler

Florissant Branch

Second Place

Shienna and Alison

St. Charles Branch

Third Place

Matt

Florissant Branch