August 17, 2023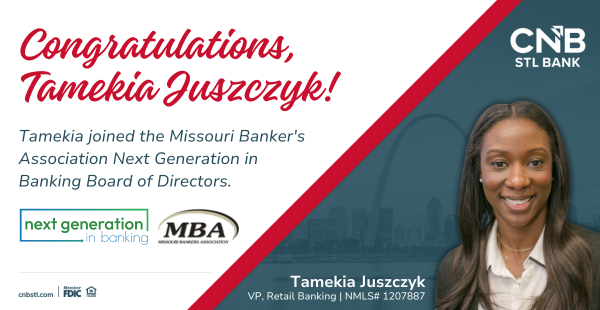 We extend our sincerest congratulations to Tamekia Juszczyk for her latest appointment to the Board of Directors of the Missouri Banker's Association Next Generation in Banking! Tamekia, Vice President of Retail Banking at CNB St. Louis Bank, is one of the two directors representing the Gateway region, encompassing St. Louis and its adjacent counties.

The MBA's Next Generation in Banking, formerly known as Young Bankers Leadership Division, reflects the aspiration to create an inclusive space that caters to a wide spectrum of banking professionals - from those at the beginning of their journey to those with seasoned expertise. During her tenure on the board, Tamekia will collaborate with NextGen bankers across various programs and initiatives. These encompass but are not limited to, professional development, grassroots advocacy, financial literacy initiatives, participation in banking schools, seminars, workshops, and educational opportunities offered by esteemed institutions such as the American Bankers Association, among others. This transformation emphasizes the dedication to fostering a diverse community that thrives on leadership, advocacy, and volunteerism.

The driving force behind Next Generation in Banking is its board, composed of 14 accomplished directors, with two representatives from each region, alongside three officers. The board is a dynamic cohort of banking professionals from institutions of varying sizes, contributing their unique insights and expertise to steer them toward a brighter future.

As Vice President of Retail Banking at CNB St. Louis Bank, Tamekia provides oversight for all retail banking operations across our six branch locations. Additionally, she is responsible for driving retail product development and sales strategies throughout the organization.

We are proud to see Tamekia embarks on a three-year term on the NextGen board, where she will be instrumental in shaping the path forward for the Next Generation in Banking. Her participation exemplifies her commitment to fostering a strong and vibrant banking community that thrives on unity, collaboration, and innovation.