April 6,  2022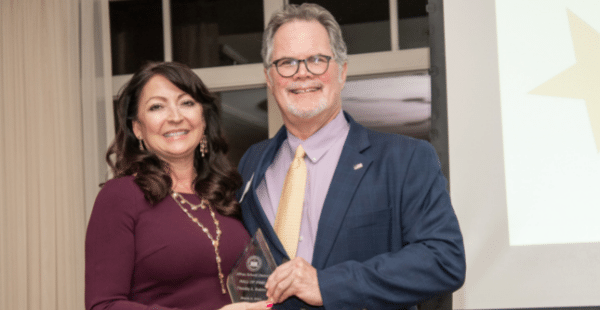 Last month, Mr. Tim Rodden was inducted into the Affton Education Foundation's Hall of Fame during their annual dinner to honor distinguished alumni. Rodden, CEO and President of CNB St. Louis Bank, is an alumnus of Affton High School and has served on the board of the Affton Education Foundation since 2012. The Foundation stays true to enhancing educational resources with both educator grants and student scholarships. They aim to inspire students to attend college by rewarding them for their hard work and dedication through scholarships. 
In addition to being an alumnus of Affton High School, Rodden is a long-time resident of the community. "It is important to me that I remain involved in the community and take an active role in the education of our young people. I'm proud to serve on the board of the Affton Education Foundation and am especially honored to be inducted into the Alumni Hall of Fame," commented Rodden.
Rodden is a seasoned bank executive with over 40 years of community banking experience with a strong commercial lending background. An Affton area native, he uses his intimate familiarity with the St. Louis market and the unique challenges business owners face to deliver winning solutions to his clients.
The mission of the Affton Education Foundation is to improve and enhance educational opportunities and resources for all children enrolled in the Affton School District, and for the teachers who support them. The Annual Hall of Fame Dinner is the foundation's primary fundraiser and funds raised at this annual event enable them to award numerous scholarships annually.
"I am thankful to be a part of such an amazing community, where I grew up, have made life-long friends, and raised my family. I am forever grateful that the Affton Education Foundation continuously stands strong in their mission to enhance educational opportunities for its community."