Borrower: 
Family-Owned Restaurant Start Up
Lender:  Paul Lints, Vice President Commercial Lending
Type:  3 Year Term / 20 Year Amortization
Amount:  $278,000
Collateral Type:  Mixed-Use Real Estate
The Story: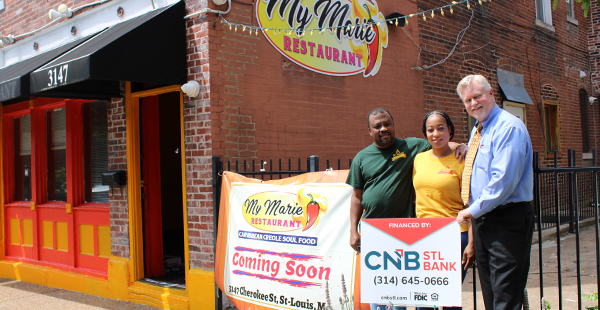 Our borrower, a family-owned small restaurant, was operating in Cape Girardeau when they made a strategic decision to move their restaurant to the St Louis area, where there would be more demand for the Caribbean-inspired food they serve. They found a perfect place on Cherokee Street, where global eateries are the norm, and signed a 5-year lease. Early into their lease, the building became available for sale.  The real estate broker for the property reached out to Paul Lints about facilitating a loan for the start-up restaurant to purchase the mixed-use commercial property.
Paul spent the time getting to know the husband and wife duo; their experience, business plan, and goals. They had money saved for a down payment but had never purchased real estate, commercial or residential, before. This mixed-use building was formerly a restaurant on the main floor therefore it was nearly move-in ready for their new restaurant venture. The small apartment on the second floor would serve as their family's primary residence. The main challenge for this borrower was proving to a lender that their business would cash flow and that they would be able to service the debt. While they had owned and operated a restaurant in Cape Girardeau, the performance of the restaurant was not a good indication of future success for a few reasons. The space where they were previously operating was too large for their needs and the area did not offer much demand for the specialty cuisine. While the move to a smaller space in the Cherokee Street neighborhood was a strategic move that will position the restaurant for greater success, it left the borrower in a position of being a start-up with no historical financials for their lender to rely upon. Paul quickly recognized the business acumen of the buyers and stepped in to provide the financing they would need to purchase the owner-occupied mixed-use commercial property.
Once the financing was approved, the deal moved forward smoothly. Paul was able to guide the borrowers through the process, providing them with comfort and security that their banker was a reliable and trusted advisor. In the end, the couple was able to purchase the property they were originally prepared to lease, for a monthly loan payment that was less than their original monthly lease payment. This purchase is a huge investment in their future and we can't wait to see how successful they will be in the city of St. Louis.
At the time of this article, renovations are nearing completion and they are expected to open in a few weeks.  They participated in a recent street festival serving Caribbean dishes and, according to Paul, they serve "The very best jerk chicken!" Paul is thrilled to have facilitated this loan, citing the personal connection with the borrower and the joy of being influential in their ability to start their journey as restaurant owners/operators and real estate owners in St. Louis!  "Working with these borrowers reminded me of what I love about being a community banker, I get to make an impact, " stated Paul Lints.
While the restaurant industry as a whole is back on the upswing after a rough several years, the need for capital remains.  With the Restaurant Revitalization Fund (RRF) being depleted, restaurant owners are relying upon local banks and community bankers to get the financing they need to accommodate growth and expenses.  Supply chain issues, staffing shortages, and increased costs put restaurants under pressure to respond to changes in cash flow.  Additionally, restaurants have been innovative in response to health concerns, and many of those changes are here to stay such as touchless payments and online and mobile ordering.  Many restaurateurs are continuing to invest in technology and automation to create efficiencies and alleviate the impacts of staffing shortages and supply cost increases.
Contact Paul, or any one of CNB's experienced commercial lenders, to talk about how financing and treasury management services can help you reach your business goals and customer expectations.
CNB St. Louis Bank's Commercial Lending Team is ready to help you through all aspects of your business banking and financing needs - big or small; complex or simple.  From financing options, deal structure, and local market knowledge to cash management and fraud prevention tools, we have the expertise to help your business thrive.  We specialize in loans for family businesses, local businesses, franchisees, investment real estate, commercial real estate, manufacturing and distribution, owner operators, retail, and professional services.
All loans are subject to credit approval.  Other rates, terms, and structures are available.  CNB St. Louis Bank is an Equal Housing Lender.