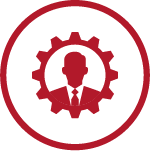 Mortgage Tools and Resources
Meet Our Mortgage Lenders
Our mortgage bankers have the knowledge and experience you need to help you achieve your financial goals through home ownership.
Explore Mortgage Calculators
We have several calculators designed to help you make financial decisions.  
Being prepared with the right information will help the mortgage loan process move smoothly.  We've prepared a list to help you get started.
Learn more about common mortgage loan and refinance terms like conventional, FHA, VA, ARM, PMI, and more.
Should you rent or should you buy your home? It takes more than looking at your mortgage payment to answer this question. 
Save With Bi-Weekly Payments
This calculator shows you possible savings by using an accelerated bi-weekly mortgage payment.