Add your CNB St. Louis Bank debit card to your mobile wallet for convenient, secure, and fast payment at millions of participating merchants.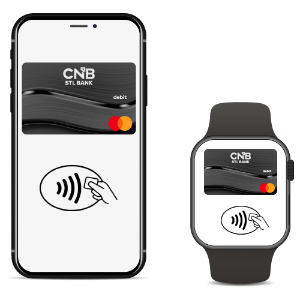 How Does it Work?
Simply add your CNB St. Louis Bank debit card to your Apple Pay, Fitbit Pay, Garmin Pay, Google Pay, or Samsung Pay wallet, then use your phone, watch, or fitness tracker to pay at participating merchants.
What are the Benefits?
Security - Digital wallet payments use a process called tokenization, which creates a unique and random set of numbers for each and every transaction, making it more secure than using your physical card which has only one number for all transactions.  This reduces the risk of your card number being compromised.  If your device is lost or stolen, contact us to remove your card from your mobile wallet.
Widely Accepted - Accepted at millions of locations across the country.  Just look for this symbol

Convenience - No need to have your card with you after you have uploaded your card into your digital wallet, just open your digital wallet on your mobile device, watch, or fitness tracker to complete your transaction

Fast - Mobile wallet transactions are noticeably faster than chip card transactions - sometimes twice as fast!
Click below to learn more about the different mobile wallet options:
---
Apple, the Apple logo, Apple Pay, iPhone, Touch ID, and Apple Watch are trademarks of Apple Inc., registered in the U.S. and other countries. Google, Google Pay, and the Google Logo are trademarks of Google Inc. Samsung and Samsung Pay are registered trademarks of Samsung Electronics Co., Ltd. Fitbit Pay™ is a registered trademark of Fitbit, Inc. and/or its affiliates in the United States and other countries. Garmin Pay™ is a trademark of Garmin Ltd. or its subsidiaries. Screen images are simulated; actual appearance may vary.