For a limited time only, earn a special rate on a 15 month certificate of deposit!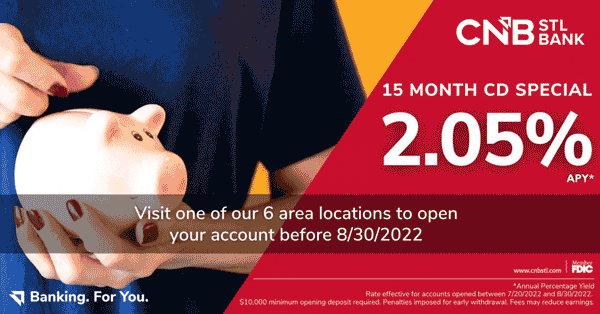 *APY = Annual Percentage Yield
Rate effective for accounts opened between 7/20/2022 and 8/30/2022. $10,000 minimum opening deposit required. Penalties imposed for early withdrawal. Fees may reduce earnings.
Open Your Account Today!
Visit one of our 6 convenient area branch locations to open your account. 
Questions?
  Call (314) 645-0666
during business hours or
contact us
to start a conversation.
St. Ferdinand (Graham/Hanley) @ Washington
Maryland Heights, MO 63043
---
Want to calculate the amount of interest you can earn?
Ever want to know how to calculate the amount of interest you can earn on your CD? Calculate your interest with our CD Interest Calculator - enter the rate, balance and term to find out how much you will earn in your CD!
---
Concerned about liquidity? 
Since our Certificate of Deposit accounts have a penalty for early withdrawal, it is important that you plan ahead!  One of the strategies our clients have found success with is called CD Laddering.  What is CD Laddering?  CD Laddering is the practice of staggering maturity dates to ensure you can take advantage of the higher interest rates offered by longer maturities while also ensuring you have funds available when you need them. We offer a convenient calculator to help you plan!