July 13, 2023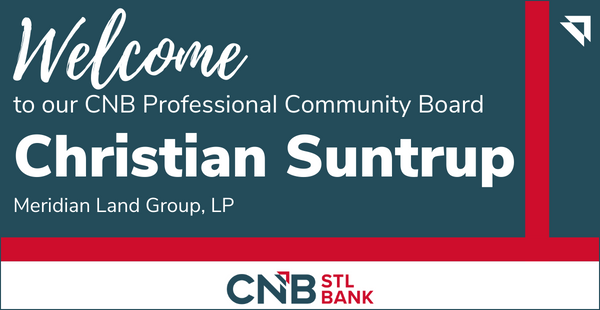 CNB St. Louis Bank is proud to announce the appointment of Christian Suntrup to our Professional Community Board. The board, comprised of young business leaders in the St. Louis area, promotes the development of new bank relationships, brings collaborative value to its members, and contributes to the community.
"We are honored to have Christian Suntrup join our board,"
Colby Schmid, Regional President
at CNB commented. "His banking and real estate industry knowledge, education, and leadership expertise will be a crucial resource to our board. We look forward to the contributions Christian will make to our group."

Christian Suntrup is involved in property management and accounting for Meridian Land Group, LP. He oversees over 10,000+ acres of agricultural farmland throughout the state of Missouri. Prior to working at Meridian Land Group, LP, Christian was a Commercial Loan Officer with Great Southern Bank from 2016-2018.

The Professional Board is the newest of CNB St. Louis Bank's community boards, established in 2021, and is comprised of St. Louis area business leaders who are active in the community and focused on growth. The group's members are ambassadors for the bank and meet regularly to foster lasting relationships between members. Together, they create opportunities, widen business and social circles, encourage growth, and learn about factors impacting one another's businesses and industries.
Christian Suntrup attended Boston College on an athletic scholarship from 2011-2014. He then transferred to Saint Louis University where he successfully completed and earned his bachelor's degree.