September 30, 2020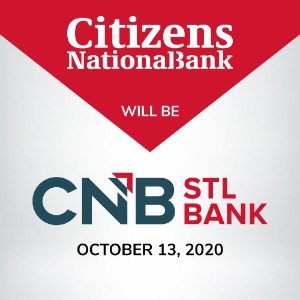 Citizens National Bank of Greater St. Louis recently announced the bank is launching a refreshed look and a simplified name – CNB St. Louis Bank.
"We are renewing our commitment to our customers and the St. Louis community. Our promise to you, our customer, is to continue our focus on serving you the way You like, when You like, and where You like. We call this renewed commitment: Banking. For You. While our name is changing, our ownership remains the same, customers will continue to work with their same banker and retain the same account number," said Tim Rodden, Bank President.
The new logo modernizes the brand with a clean and stable typeface. It features a forward leaning triangle symbolizing growth and longevity as well as CNB St. Louis Bank's three-point customer focus of personal service, positive experience, and accessibility.
As part of this brand evolution, the bank is also making a measurable investment in technology to enhance the customers' digital experience. This technology upgrade is expected in the first half of 2021 and is designed to deliver on the bank's promise of serving customers how, when, and where they like.
"This brand evolution positions CNB St. Louis Bank to deliver another 100 years of growth and support for the St. Louis community," said Tim Rodden.
To learn more about this evolution and get answers to Frequently Asked Questions: