April 6,  2023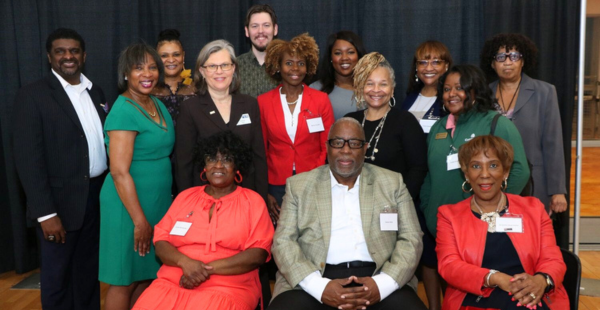 On Thursday, March 30, 2023,
Veronica Morrow-Reel
, Community Development Assistant and HOPE Loan Officer Assistant at CNB, served as Co-Chair for the Faith-Based Leaders Breakfast, sponsored by the St. Louis Regional Financial Empowerment Coalition. The event was a call to action for faith-based leaders to encourage their congregations to take advantage of the FREE events taking place in the Month of April, also known as
Money Smart Month
. The theme of the breakfast was
Empower your Congregation with tools for Financial Freedom!
  Over 150 faith-based leaders from Illinois, St. Louis City, and St. Louis County attended the event, held at the O'Fallon Park YMCA.
Guest speaker,
Will Jordan
, Executive Director of Metropolitan St. Louis Equal Housing & Opportunity Council (EHOC), serves as a Cell Pastor for Refuge and Restoration Church. They are currently working on a 16-million-dollar project to revitalize the Old Springwood Plaza in Dellwood, Missouri to bring many jobs and a plethora of services to the North County area.
The
St. Louis Regional Financial Empowerment Coalition
launched in September 2019 with the merger of two organizations that had been working together for over 10 years; the St. Louis Regional Unbanked Task Force (STRUT) and the St. Louis Financial Education Collaborative (SFEC). The coalition is a diverse group of community stakeholders dedicated to increasing family self-sufficiency and prosperity through financial education, affordable banking, asset-building, and financial inclusion. Coalition members, called partners, represent national banks, regional banks and credit unions, nonprofit and community-based organizations, local government, business organizations, and representatives from the FDIC and the Federal Reserve.
United Way of Greater St. Louis
supports the Coalition as the fiscal sponsor and backbone organization.
Learn more about the
Coalition
or reach out to Veronica Morrow-Reel, pictured in the bottom left, for more information!