September 15, 2022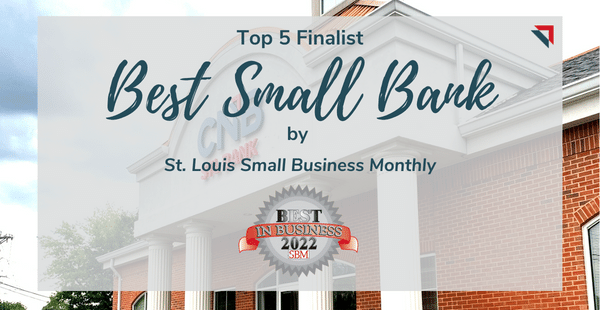 CNB St. Louis Bank a Top Five Finalist for Best Small Bank
We are pleased to share that CNB St. Louis has been selected as a Top Five Finalist for Best Small Bank by St. Louis Small Business Monthly. With close to 200 banks and credit unions headquartered in the St. Louis area, we are honored to be voted one of the best. We would not be able to receive this acknowledgment without our team who is dedicated to delivering personal service, positive experience, and convenient accessibility to our clients day in and day out.

What does being a small, community bank mean to us?
Our bankers live, work, shop, and dine in the communities we serve, so we have a real and intimate understanding of our clients and their businesses. Our commercial loans are approved locally, and you can reach us when you call. It means we are big enough to offer a full suite of banking products, services, and digital offerings while being small enough to know our customers personally. It means our branches, bankers, and decision-makers are easily accessible and attentive to the needs of our clients. We believe local businesses gain an advantage when choosing to work with a community bank, check out the top
5 reasons why a community bank may help your local business
.

Thank you!
We could not have earned this honor without the devotion of our customers and our team. Many thanks to everyone that voted and to the St. Louis Small Business Monthly for collecting the nominations and compiling the results. We are happy to be listed among the best of the best and would like to offer our congratulations to the other finalists for earning their "Best in Business" distinctions. The annual Business Owners' Guide features all the category finalists including Best Accounting Firm, Best Law Firm, Best PR Firm, Best Consulting Firm, Best in Value, Best Marketing Firm, Best IT Firm, Best Cybersecurity Firm, Best in Customer Service, Best Attorneys, Best M&A Providers, Best in Reliability, Most Innovative, Best IP Attorneys, Best Wealth Advisors, Best Accountants, and Best Payroll Providers. Check out 2022's Best Companies in all categories on
sbmon.com.

We strive to serve you the way You like, when You like, and where You like. We call this commitment: Banking. For You.