October 28, 2021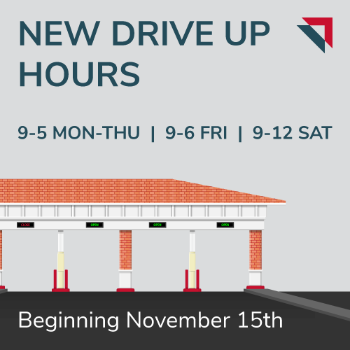 Effective Monday, November 15th, 2021 the drive up banking lanes at all six of our St. Louis area branches will open at 9:00am.  Our lobby hours remain the same.
The new hours for our drive up lanes will be as follows:
9:00 am - 5:00 pm  | Monday through Thursday

9:00 am - 6:00 pm  |  Friday

9:00 am - 12:00 pm  |  Saturday
This change comes as a result of dwindling demand for drive up services before 9:00 am.  Most account holders will not be impacted by this change, however if you are please reach out to one of our helpful representatives to find the right alternative for you.


To make a deposit, transfer funds, or withdraw cash outside of our normal business hours:
Use your Debit Card to make an ATM Deposit, Transfer Funds, or Withdraw Cash
Deposits are accepted at our drive up ATMs located at our branch locations in Maplewood, Affton, Maryland Heights, Florissant, St. Charles, and St. Peters.  You may make a deposit or funds transfer at any one of these ATMs using your CNB St. Louis Bank Debit card.  For cash withdrawals, we are part of the MoneyPass® ATM Network, providing our account holders with convenient access to their cash at over 30,000 ATMs across the country without paying a surcharge.


Use our Convenient Night Drop Services
Secure deposit drop boxes are located at each of our six St. Louis and St. Charles area locations.  You may deposit cash and/or checks using our night drop boxes any time, day or night, using the envelopes provided next to the drop box.  Night drop deposits are retrieved and processed between 8:30 am and 9:00 am each business day.


Deposit Checks or Transfer Funds Using our Mobile App
Account holders using our mobile banking app can deposit checks using the camera on their iOS or Android mobile device.  Login to digital banking on your device, then click the Deposit Check camera icon from the icon bar at the bottom of your screen and follow the on-screen prompts.  Transfers between CNB accounts and to external accounts (once set up) can also be completed using our mobile banking app.  For detailed instructions, visit our Digital Banking Help page.


Business Customers
If you are a business customer and need to conduct transactions outside of normal business hours, we offer a full suite of Treasury Management products to help business owners save time, eliminate paperwork, deter fraud, increase internal controls, and more!  Please contact Jeff Files, our Treasury Management Specialist, to discuss ways we can make your banking experience more convenient and efficient.
Please contact us with questions about this change or with any of your banking needs.  We are committed to serving you with personal service, positive experience, and convenient accessibility.