UPDATE 5/3/2022
Since we authored the below article in early April, we have seen direct evidence of the type of attempted fraud described in this article.  To recap, news reports indicate thieves have gained access to the keys used to unlock blue post office collection boxes (called "arrow keys") and are using them to steal mail, including checks, and are committing fraud by selling and/or altering the stolen checks (Byers/Corey).  
It is important to note that, in many of the cases we have seen, the check numbers and dollar amounts remain as-issued, and only the payees on the stolen checks have been changed.  We are advising account holders to look closely at their accounts on a regular basis.  Looking at the transaction history on your account will show you dates, check numbers, and amounts so account holders must also look at check images to ensure the checks have reached their intended recipient.  
Our fraud prevention team continues to monitor the situation, however the best way to combat this type of fraud is for account holders to work in collaboration with their banks.  Please be diligent about monitoring your account for fraud, read the below article for ways you can protect your account.
 As always, we are here to help!  Contact us immediately to report any suspicious activity on your account. 
How to Protect Your Business from Check Fraud in 2022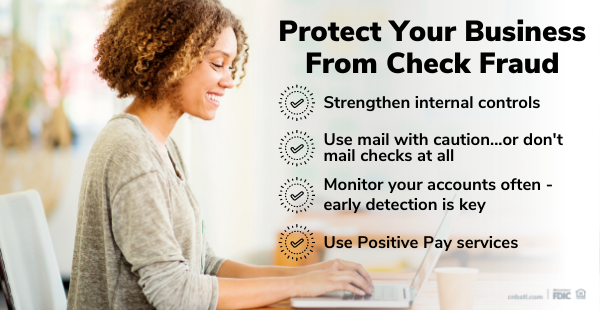 April 8,  2022
Author:  
Jeff Files
, Vice President - Treasury Services
With mail theft and check fraud in the news lately, we are receiving questions from our commercial clients about check fraud protection. You may be surprised to learn that, while many business owners are hyper-focused on cyber security risks, old fashion check fraud continues to be a pervasive issue for businesses.  You read that right, paper checks could present just as much of a fraud risk as modern digital banking methods!  In fact, digital convenience services such as mobile deposit could open the door for fraudsters, as some banks monitor their mobile deposits more closely than others.
While the use of checks by businesses has declined by 38 percent since 2019, instances of check fraud have only declined by 8 percent.  According to the Association for Financial Professionals (AFP)'s 2021 report, checks and wire transfers continue to be the payment methods most greatly impacted by fraud. Additionally, the Evidence Based Cybersecurity Research Group at Georgia State University reports that mail-related check fraud has been on the rise since August of 2021 (
JP Morgan Chase
).
Check fraud is not a new threat, however there is a new twist on the scam that incorporates the dark web.  Fraudsters are not using stolen checks themselves.  The fraudster first counterfeits or alters a check and then places the check (or series of checks) for sale on the dark web.  This added layer minimizes the risk for the seller and creates a more challenging paper trail for law enforcement.  Getting ahold of the checks is surprisingly easy.  Fraudsters can easily gain access to your account by using modern printing technology to create counterfeit checks or by chemically altering a legitimate check to change the amount and payee.   The Evidence Based Cybersecurity Research Group reports they are finding over 1,300 stolen checks per week up for sale on the dark web (
Davis and Keith
). 
Anecdotally, our fraud prevention team at CNB has observed an uptick in instances of attempted check fraud in the past 6 months.  Just this year, we have identified hundreds of thousands of dollars in fraudulent checks. While banks can detect and return some fraudulent checks through normal processes and procedures, it is impossible to catch them all without true collaboration between the bank and the depositor.  Think of it this way – the Bank monitors thousands of accounts for fraudulent activity, while each account holder only needs to monitor a few accounts each.  Working in collaboration with your bank and remaining vigilant about fraud prevention practices is the best way to minimize losses for both banks and businesses.
Proactive Steps Against Check Fraud
While the risk of check fraud isn't going away anytime soon, putting a few easy check fraud prevention strategies in place can effectively minimize your risk.  While there is no way to fully prevent your business from being a target of check fraud, there are a few simple steps you can take to make it less likely for your business to experience any losses as a result.  The below fraud prevention techniques can be implemented in your organization quickly and easily.
Strengthen Internal Controls

Your first line of defense against fraud is preventing internal fraud.  We cannot stress enough how important it is to have strong internal controls. No employer wants to think their trusted employees are capable of theft,  however the most loyal employee can have their ethics put to test when conditions are right.  Think of the three sides of the fraud triangle – Opportunity, Motivation, and Rationalization.  Strong internal controls can eliminate the opportunity side of the equation and greatly reduce your risk of internal fraud.  Things like locking up your blank checks, creating dual controls, separation of duties, and close account monitoring can deter temptation.  Your CPA's audit department can provide a more thorough review of your internal controls and advise you on enhancements to consider for your business.



Be Cautious About Mailing Checks

Of late, there have been reports of mail theft across the country.  The local St. Louis news has reported mail theft as close as Richmond Heights, Clayton, Brentwood, and Creve Coeur, Missouri - specifically in and around the 631-- zip codes.  This theft often occurs at one of the blue United States Postal Service mailboxes you commonly see in public areas (Corey). If you must mail checks, your safest bet is to drop off any mail containing checks inside your local post office, either at the counter or at a drop box that cannot be accessed outside of the post office.  Do not use rubber bands to group your mail together – this makes it easier for a thief to grab multiple checks. Consider using security envelopes instead of windowed envelopes so that the contents of your mail remain concealed. Note: If you believe you are a victim of mail theft, contact U.S. Postal Inspectors at 877-876-2455 to report the theft.



Early Detection through Account Monitoring

Early detection is key to preventing losses.  The longer it takes a business owner to identify fraud, the more time a fraudster has, the more fraudulent checks there could be in circulation and presented for payment. The more time that passes after a check clears your account, the less likely it is for the bank to successfully recover lost funds.  Most times, losses from unauthorized checks reported after 24 hours are unrecoverable. We recommend all business customers monitor their checking accounts daily or more than once daily to keep an eye on account activity.  As soon as the bank becomes aware of fraud on a checking account, protections are placed on the account to prevent payments of unauthorized checks. In the best-case scenario, funds are recovered, loss is prevented, but the damage may not be fully escaped.  Your team will invest time and resources into protecting the business accounts from future losses and vulnerabilities.  We have the tools in place for businesses to monitor their accounts.  Our recently upgraded digital banking platform provides businesses with 24/7 access for proactive account monitoring plus several built-in alerts that can push notifications to account holders based on specific account actions or transaction amounts.



Loss Prevention through Positive Pay

The absolute best way to prevent losses due to check fraud is to prevent fraudulent checks from being paid from your account.  CNB has a powerful treasury management service called Positive Pay that is easy to use and is an incredibly effective fraud prevention technique.  Positive pay creates an extra validation step to ensure that no checks presented will be paid without first being validated by you or your designated employee. 

How does it work?  Account holders use our digital banking system to input information about the checks they have issued (either manually or with a file upload).  When checks are presented to the bank for payment, the system matches key details, such as check number and amount, to the information provided by the account holder.  Checks presented with information that does not match what the account holder provided are flagged.  Then, the account holder can use our online banking or mobile app to approve or deny the flagged checks.  This additional approval step allows for altered or fraudulent checks to be identified before they are paid. 
We value your business and hope you found this information useful.  Our goal is to provide you with personalized service and winning solutions.  Contact your
business banker
or our
treasury officer
today to inquire about how digital banking and positive pay can reduce risk and prevent losses. If you discover that you are missing checks, your mail has been tampered with, you see any suspicious activity on your account, or there is any other indication that your account could be at risk for fraud, contact your bank as soon as possible to report the incident.