January 10,  2022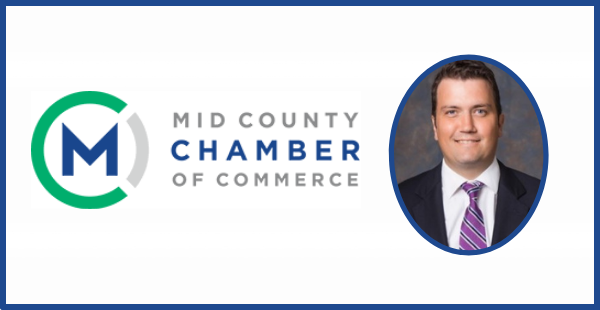 We are excited to announce that John Charlton, Senior Residential Mortgage Banker at CNB, has recently been appointed as a Board Member for the Mid County Chamber of Commerce. The Chamber proudly serves the communities of Maplewood and Richmond Heights and embraces the unique identities and culture of both cities, while also working together to maximize their resources and services to their members.  
Charlton has lived in the Maplewood community for 5+ years, works out of CNB's Maplewood Banking Center, and is actively involved in the community. "I absolutely love living in Maplewood and being involved in the community, and I am honored to serve on Mid County Chamber's board," John noted. "The community and businesses are so connected and eager to see one another thrive, and it's always been a passion of mine—to help others succeed." The Mid County Chamber of Commerce consistently works to deliver the best service, quality, and accessibility to their people and community, in hopes of ever-enduring success for them.
John's unique and distinguished knowledge from 15+ years of banking is a great benefit to his clients, as he specializes in mortgage lending for first-time homebuyers, those transitioning into a new home, and those finding their forever homes. He greatly cherishes personal relationships with his clients, while always having an open door for new ones. With his strong affection, devotion, and humble charisma for his clients and the Maplewood business community, he is sought to be a strong and trusted banking resource for all those with home lending needs. While John's roots are in Maplewood, he works with clients throughout the St. Louis metro area and beyond.
Contact John today for more information about the Chamber or to get more information about a home loan or to start an application.
About Mid County Chamber of Commerce: The Chamber has been a home base for businesses in the Maplewood and Richmond Heights communities to turn for assistance, support, education, and extra help when needed.  They are inspired to support so many businesses that cater to everyday needs of their residents, making them one of the few walkable communities in the area. Even with all the exciting day and night life offered, customers are amazed to find these communities so close-knit. The Chamber is recognized as tax-exempt not-for-profit and is financed through annual membership fees, sponsorships, and two annual fundraisers.  They are ever grateful for the generosity and stewardship of the Chamber Members who make their services possible.