June 19th, 2020
Bank adapts to COVID restrictions and restores 1950s walk up windows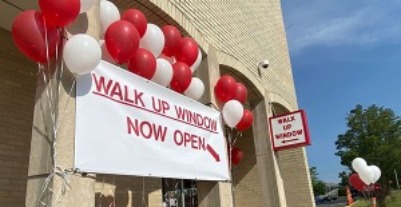 As part of our commitment to customer service and safety, our Maplewood branch will open two walk-up teller windows on Monday, June 22, 2020. The walk-up teller windows, located on the east side of the building facing Oakview Terrace, were installed back in 1953 and remained in service until the early 2000's when demand for walk-up services dwindled.
"While we have continued to meet customer demands safely through our drive up windows, we are tuned in to customer experience and the needs of our communities," stated Tim Rodden, President and CEO, "We have seen businesses respond quickly and creatively to serve their customers and we saw an opportunity to do the same." The reopening of the old walk-up teller windows means a new way to provide face-to-face service for daily banking transactions and a more personal experience for bank customers.
The 60+ year old walk-up banking facility is equipped with two glass-covered teller windows with pass-through slots and a secure transfer cabinet. The windows are inside a small indoor vestibule offering protection from the elements. To provide additional protection for customers, a plexiglass divider has been installed between the two windows, measures are being employed to clean and disinfect the area regularly, the number of customers inside at one time will be limited, and the use of masks is strongly encouraged.
The bank has adapted quickly to customer demands throughout this pandemic, most notably through facilitating vital Paycheck Protection Program (PPP) loans. The bank experienced a dramatic increase in number of loans booked during the months of April and May as a result of the PPP loan program. "We are thrilled to report that we facilitated PPP loans for every eligible customer who applied," stated Steven Hart, Chief Credit Officer, "We are proud of our staff and their commitment to serving our small businesses." The Bank was able to approve and quickly fund PPP loans to existing customers along with some new customers who had been underserved by their existing financial institutions.
The bank has remained open for business throughout the pandemic, leveraging online banking tools and the existing drive-up lanes at all six of their metro area locations to serve customers, along with limited lobby appointments when necessary.