July 19, 2023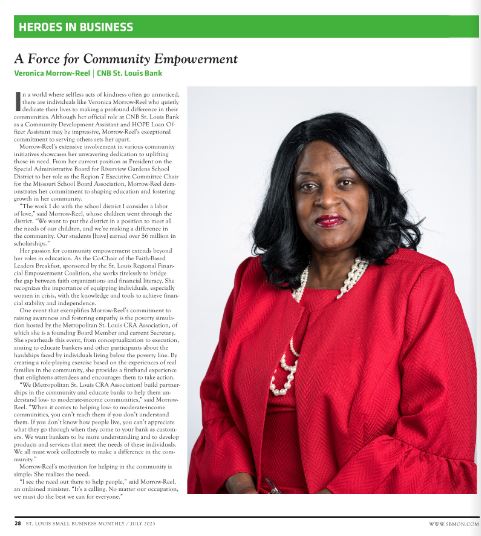 Congratulations to Veronica Morrow-Reel on being chosen by St. Louis Small Business Monthly as one of St. Louis' Unsung Hero in Business! The
July 2023 issue
of the publication features Veronica on page 28, including a short bio of the real meaning behind an unsung hero.

Veronica's unwavering amount of commitment and dedication to uplifting others and her community is what sets her apart from most. Whether it be day, night, or even weekends, Veronica continuously shows her commitment to shaping the lives of young children, fostering growth, and making a difference in her community. She strives day in and day out to empower individuals to understand and develop the basic skills to become mentally, physically, and financially successful.

"I am impressed with the person the Veronica is and all she does for others and our community" stated Tim Rodden, CNB St. Louis Bank President and CEO. "Veronica selflessly gives her time to uplift the community, putting her compassion into action. She shows others what it means to make a meaningful difference in the world."
Veronica Morrow-Reel
, Community Development Assistant and HOPE Loan Officer Assistant, has a long-standing tenure of almost 30 years with CNB, showing first-hand her dedication and commitment to what she's passionate about. Her extensive experience makers her an invaluable asset to her clients, as she possesses a wealth of knowledge and expertise. Continuously striving for personal and professional growth, Veronica actively participates in seminars and workshops, expanding her specialized knowledge in areas such as community leadership, economic development, fair and equitable housing, and education.