October 16, 2023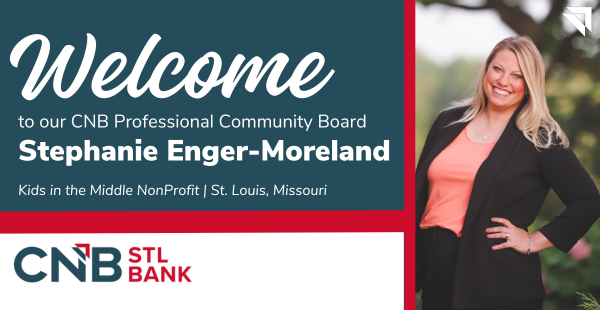 CNB St. Louis Bank is proud to announce the appointment of Stephanie Enger-Moreland to our Professional Community Board. The board, comprised of young business leaders in the St. Louis area, promotes the development of new bank relationships, brings collaborative values to its members, and contributes to the community.
"We are truly excited to have Stephanie Enger-Moreland coming on board with us," Colby Schmid, Regional President at CNB commented. "Her impressive background in the nonprofit sector and her unyielding dedication to our community will greatly enhance our board's capabilities. We're excited to witness the positive impact Stephanie will have on our board."
Stephanie Enger-Moreland has dedicated more than a decade to serving St. Louis families within the nonprofit sector. As the Chief Development at Kids in the Middle, an agency specializing in mental health support for children and families navigating divorce and separation, Stephanie's career has been marked by a strong focus on volunteerism, program development, advocacy, and successful fundraising initiatives.  
Born and raised as a proud St. Louis native, Stephanie's deep-rooted connections to the community have fueled her passion to making a positive impact. In 2013, she earned her master's degree in Nonprofit Administration from Lindenwood University, setting the stage for her continued journey in supporting organizations that aid vulnerable populations. 
Stephanie, along with her husband Chris, calls Fenton their home, where they enjoy spending time with their young son and their two dogs. She also proudly embraces her role as a "bonus" mom to two older daughters. When she is not passionately striving to make a positive impact on the world, you can often find her unwinding by catching up on her favorite Housewives episodes or simply enjoying the delightful chaos the fills her household.