April 8th, 2020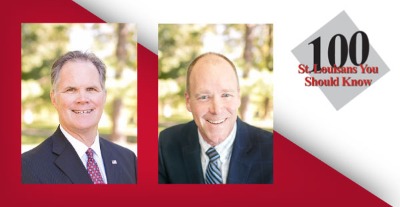 According to St. Louis Small Business Monthly, if you want to succeed in business in St. Louis there are 100 people you should know.  We are delighted to announce that two of the business people on this influential list are part of the CNB Team!  See the full list in the
April issue of St. Louis Small Business Monthly
.
Both Tim Rodden, CEO and President, and Eric Kappelmann, Senior Vice President – Commercial Banking, were both selected to be part of this list of key executives, financiers, notable achievers, connectors, and other business-community leaders.  The judges chose them based on their contributions to area businesses and overall business community.
Tim Rodden has been with the bank since 2003 and has close to 40 years of experience in the banking industry, mostly in commercial lending.  At the age of 10 or 11, he said, "I'm going to be a bank president someday," and that prediction came true in 2019 when he was named President and CEO.  He believes that being vested in St. Louis means banking local, so that your deposits stay local.  His years in the banking industry have connected him to many business owners and resources in the area.  Under his leadership, the team at CNB works together to help clients reach their business goals, either through the right banking solutions or introductions to the right resources.
Eric Kappelmann
is Senior Vice President – Commercial Banking and works out of our 
St. Peters banking center
.  Eric is adept at developing new business and as a result has helped many clients in his over 30 years in the banking industry.  He concentrates on the credit side of the business with an emphasis on real estate and construction.  Kappelmann believes that the banking relationship is more than loans and deposits, which is what helped him become one of the Top St. Louisans to Know.  Eric provides fast and friendly services, acting as a trusted advisor to small and mid-sized business owners to providing winning financing solutions and connecting them to resources to help them succeed.
We are proud of Tim Rodden and Eric Kappelmann for being selected for this list of leaders that inspire and direct success.  Contact us today for more information on how banking with local, community focused bankers can help your business thrive.